Peanut Puffs
Regular price
Sale price
$10.95
Unit price
per
Sale
Sold out

Ships in 1-2 business days

Money Back Guaranteed

Dog approved
Jiminy's new Peanut Puffs are an exciting new form with a mouth feel that dogs love – crunchy yet melts in mouth! These delicious puffs are made with simple, recognizable ingredients including crickets for a protein boost! Not only are they delicious, but the light, airy, crunchy texture makes them fun to eat. Flavored with peanuts and a bit of banana for a touch of sweetness!
Share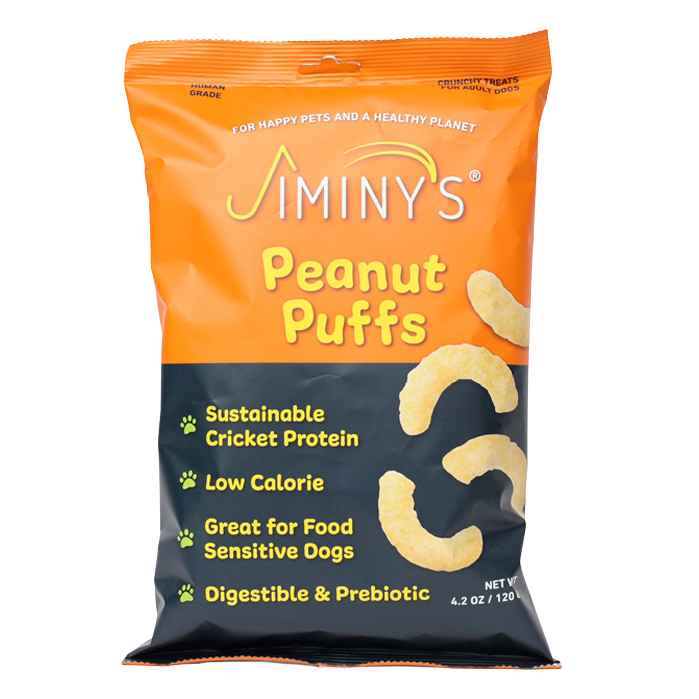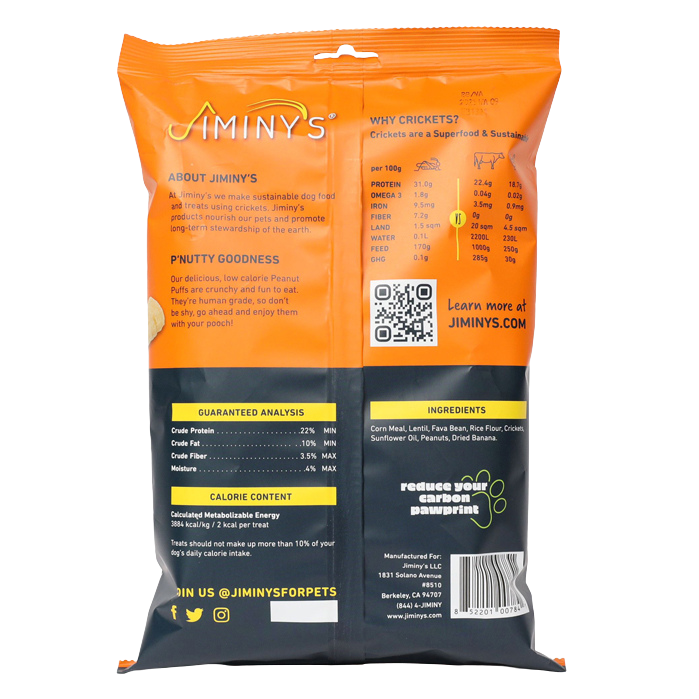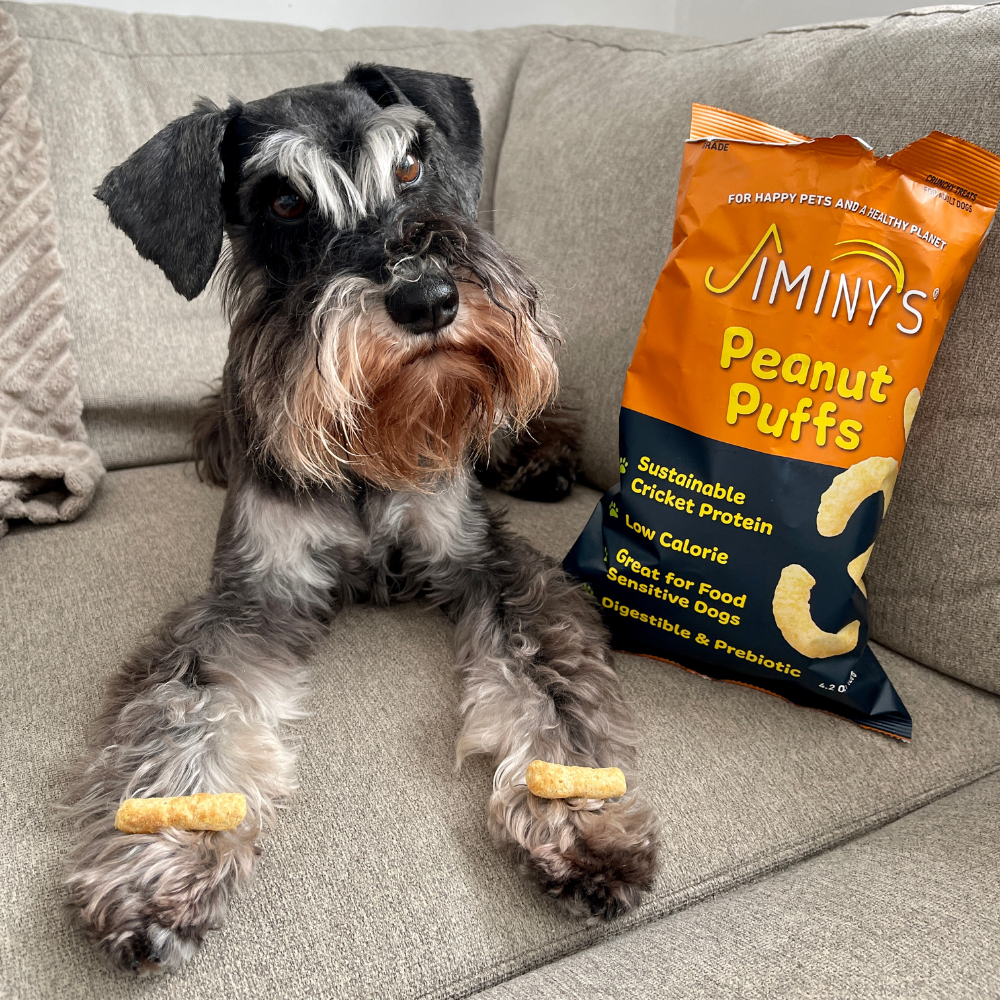 Description
Low Calorie – 2 calories per treat

High Protein – over 22% protein

Simple, recognizable ingredients

Human Grade – share the experience with your pooch!

Each 4.2 oz bag contains about 100 treats for plenty of crunchy goodness

Sustainable! Made with cricket protein, this protein requires less land, water and emits almost no greenhouse gases when compared to other protein sources
Nutrition

Guaranteed Analysis:

CRUDE PROTEIN 22% min
CRUDE FAT 10% min
CRUDE FIBER 2% max
MOISTURE 4% max

Caloric Content:
2 kcal/treat
Corn Meal, Lentil, Fava Bean, Rice Flour, Crickets, Sunflower Oil, Peanut Flour, Dried Banana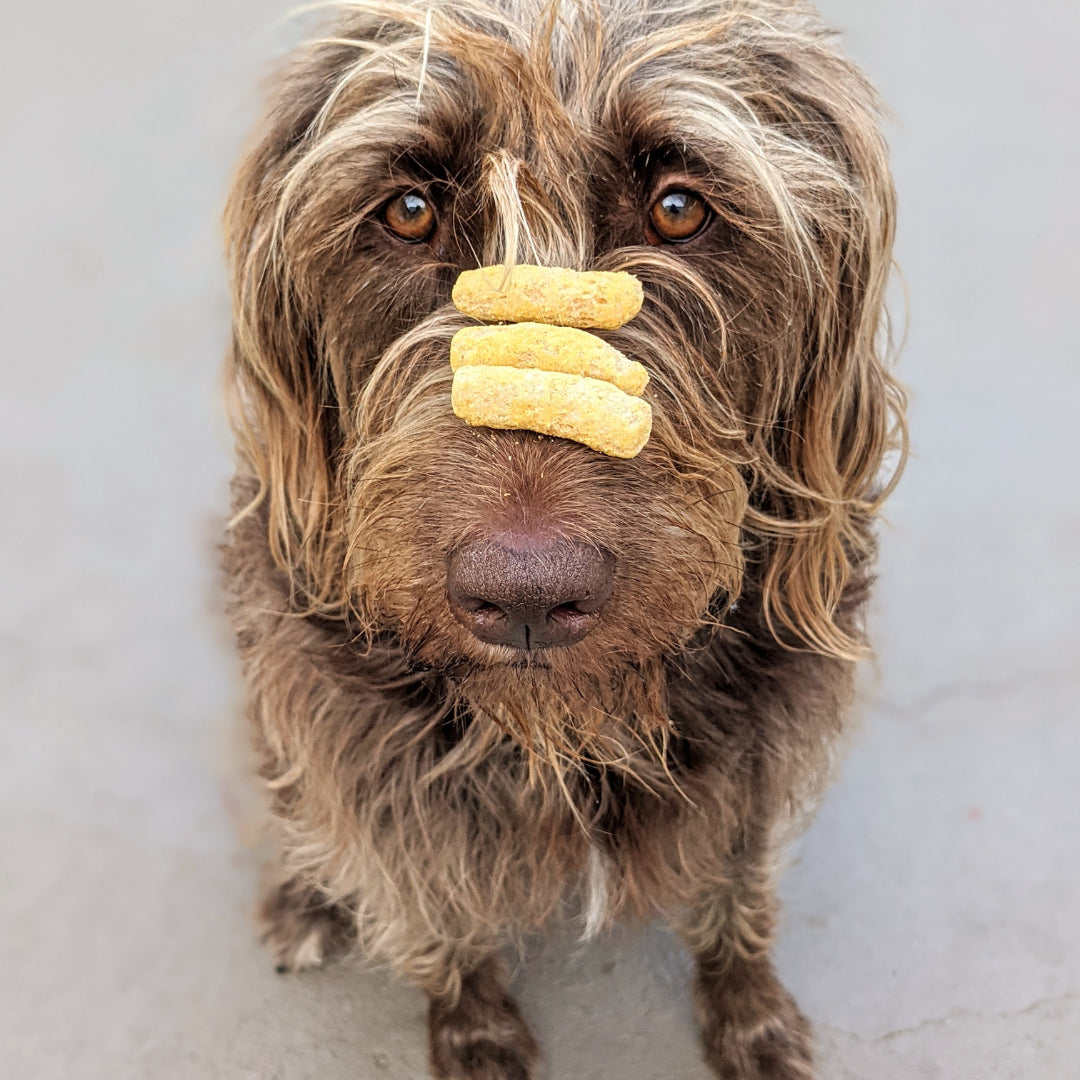 Your dog will jump for Jiminy's
Light, airy and crunchy texture

Under 2 calories per treat

Human Grade (share the experience with your pooch!)

About 100 treats per bag for plenty of puffy goodness
Why Crickets?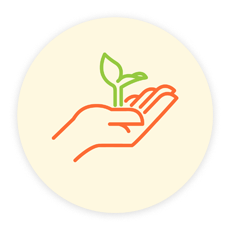 Nutritious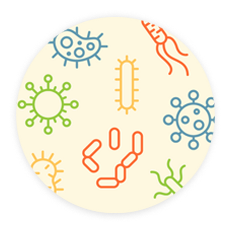 Prebiotic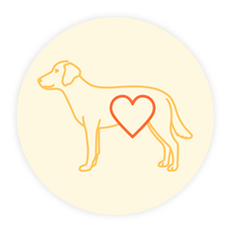 Digestible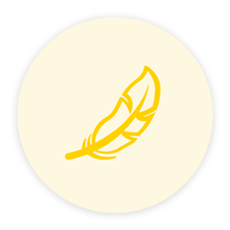 Great for food sensitivities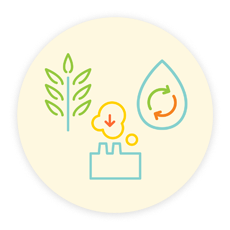 Sustainable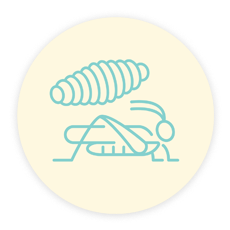 Humane
---
Nutritious
Crickets are an amazing and complete protein source with all of the essential amino acids that you find in other animal proteins. The protein itself (without additives) meets AAFCO requirements for dogs. Cricket protein contains 3x more protein than beef and 2x more iron than spinach!
Prebiotic
Crickets, like other insects, contain fibers, such as chitin, that are different from the dietary fiber found in foods like fruits and vegetables. Fiber serves as a microbial food source and some fiber types promote the growth of beneficial bacteria, also known as probiotics. Jiminy's partnered with Animal-Biome to study the impact of cricket protein on the dog's gut. And great news – cricket protein supports a healthy, balanced level of gut bacteria diversity (gut microbiome) in dogs. It's pre-biotic!
Digestible
Digestibility refers to the relative amount of nutrients within the diet that become available to the body after digestion and absorption. Both cricket and grubs score above 80 in digestibility studies with dogs – that qualifies these proteins as "high-quality protein" for the dogs.
Great for food sensitivities
Beef, chicken, lamb, soy and even fish are the most common ingredients that trigger dog allergies.  Insect protein is an alternative protein for the dogs and we haven't seen dogs exhibiting allergies to this protein.  In fact, veterinarians are already using Jiminy's in elimination diets (eliminating all known allergens to try to determine what the actual allergy is) because insect protein is not an allergen.
Sustainable
Insect protein is truly a sustainable protein source. Better land use and feed conversion. In addition, less water and almost no greenhouse gases. If you take a dog who is eating a chicken-based diet and switch to an insect based diet, we save 480,000 gallons of water per year.
Humane
We say humane because of the way that the crickets are raised, the amount of their natural life lived and the way they're harvested. Crickets are naturally a swarming species, and like being in a dark, warm place. They're raised in cricket condos (inside barns) which allow the crickets to live in a way as close as possible to how they would live in the natural world. They are free to hop from feed station to feed station, and can burrow deep into the condos if they choose. Harvesting time comes near the end of their natural life cycle – which is approximately 6 weeks. 
Sev's favorite
"They're under 2 calories per treat in a fairly large treat, which makes them a perfect treat for training on grass."
Your pup might also like...
Finally a treat she likes
My 7 year old dog, Olive, does not like dog treats, that is until she tried Nooch puffs. It was comical how she was never interested in coming for a treat, ( not sure how she developed this problem - she was found on the street) now she can hardly wait for these. AND she will also obey a few commands to get one.
TASTY
Nike loves these treats! It's a bonus it has protein from crickets! I thought Nike would be picky but he enjoyed them! Would definitely order again!
So Crunchy and Satisfying!
My 3 year old Golden Retriever loves these Nooch Puffs! They are literally like Cheese Puffs but with better ingredients and Dog Friendly. Charlie gives them 5 stars!
Finally a Treat My Dogs Can Eat!!!
I'm not one to usually write reviews, but I am absolutely OVERJOYED with these. These are the best treats EVER!!
I have two chihuahuas with very few teeth left that prefer to just swallow everything whole, so it's been difficult to find them treats that aren't choking hazards. But these are the same texture as cheeto puffs, so I don't have to worry about them choking! Since they're dry like cheeto puffs, my dogs are forced to break them down a little instead of swallowing, so they even encourage my dogs to chew and get their jaw muscles moving for once. Since they're so soft, I also don't have to worry about them chipping a tooth or ruining the last few teeth they have left.
I also love how simple the ingredients are. A lot of treats I've seen in stores have ingredients in them that are questionable in terms of whether they're safe for dogs, but the ingredients in these are so simple and safe that I have no concerns about whether they'll make my dogs sick! One of my dogs has gut issues and can't stomach new food, but she has had no issues with these. My dogs are also pretty picky about treats and will usually eat them once or twice at most, and then never again. Not with these! BOTH of them LOVE these treats!!
I also really like that these use cricket as a protein source, because crickets are a much more eco-friendly option. The bag says they're human grade, which is nice since it implies they were produced in a more cleanly way than other pet products (I have yet to try them myself, but I AM tempted). They're not oily, and since they don't use your typical meats as a protein source, I'm not worried about needing to wash my hands afterwards like I do with other kinds of snacks. I must also add that the sound of my dogs munching on the puffs is really cute!!
I HIGHLY recommend these, especially if you have tiny dogs, picky dogs, dogs with few teeth, or dogs that love to just swallow things whole.
TLDR;
-Great for even the tiniest dogs
-Great for dogs with few teeth
-Great for picky dogs
-Simple, safe ingredients
-Crickets are eco-friendly!
-Cute crunchy noises!!
Crunchy, healthy, and delicious!
These are my adorable dog Snugglington's new favourite treats! They look so good I almost wanted to try them myself! She loves how crunchy they are and I love how healthy they are. I had never heard about how sustainable cricket protein is and I love that I can give her super yummy treats that are better for the environment and are even better for her health. Will definitely be buying again, she loves them so much!